News
    Popular Content
    Links

Soccer AM
Saturdays 9am only on

12th April 2006
Greetings to you all from the hub of Soccer AM World.

eBay gone mad!
In recent weeks, Soccer AM World have been highlighting some of the best Soccer AM related merchandise for sale on eBay.
This time we are going to point you to an item that is truely unique.
Hand up all those who have always wanted their own pair of 'Lovejoy is a legend' Earings! This is not a joke, they are for sale on eBay right now, the starting price is £3.99. A perfect gift for your girlfriend!
Lovejoy is a legend earings bid now on eBay before it's too late!
Tramp!
With the words Robbie Knox and Tramp going together more naturally by the week, we found a spare 15 minutes to put together a little audio/visual presentation that will hopefully put an end to the large amount of emails that ask the same thing!
Robbie Knox Tramp creation.
Video of the week
Continuing with the wrestling theme, this weeks video features two asians performing a sick wrestling manoeuvre known as the Vertebreaker. After seeing this clip, it will hopefully deter you all from entering the world of sports entertainment!
Youtube.com vertebreaker video
Pictures of the week
There are 2 pictures this week. Firstly, this picture was sent to us by 'Cyra', it was taken during Sundays game between Chelsea and West Ham. It shows the Hammers supporters giving Didier Drogba great marks for one of his dives.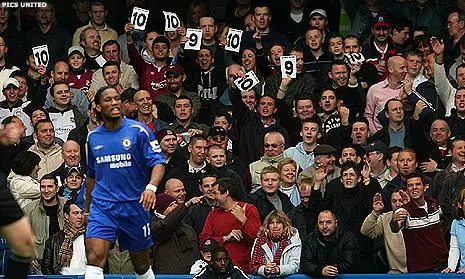 Our second picture this week was sent to us by Brighton and Hove Albion supporter Mark Potter.
Mark is pictured with West Ham United striker Teddy Sheringham at the Withdean stadium during the 2004/05 season.
The reason for showing this photo is because Mr Sheringham has just recently celebrated his 40th Birthday, and incredibly, is still playing at the highest level in English football.
If you have found or created any Soccer AM or Sport related amusing images. Or have been pictured with an icon of football. Then please send them to [email protected]
Two weeks of audio footage.
It has been a very busy period outside the world of Soccer AM World, as a result, there were no audio updates last week, however, there is a bumper update online now with two weeks worth of audio for you to enjoy. Check out the Soccer am audio section to see what's new.
And finally
Once again I would like to point out to people that the iTubes and EastEnders 'Larve it' audio footage can be found on the Main Gag, and Tubes pages of the Soccer am audio section. Thank you.